Management Team
Zenalux Biomedical is managed by an experienced start-up team with expertise in optical spectroscopy and cancer research.
Jesko von Windheim Ph.D., M.B.A.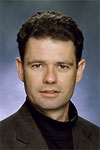 Dr. von Windheim has played an integral role in a number of start-up companies based on networking, photonics and semiconductor technologies. One of these companies, Unitive Electronics, Inc., was acquired by Amkor and remains a leader in its field (electronic flip chip packaging) to this day. He was also a co-founder of of Cronos Integrated Microsystems, a microelectromechanical systems (MEMS) company. As Vice President of Marketing and Business Development of Cronos, von Windheim positioned the company as a leader in MEMS-based optical communications components. In 2000 Cronos was acquired for $750 million by JDS Uniphase. At JDS Uniphase Dr. von Windheim ran the Cronos business unit as GM and VP of MEMS. Most recently Dr. von Windheim was CEO of Nextreme Thermal Solutions, Inc. He founded Nextreme in 2004 with technology acquired from RTI International and licensed from the Jet Propulsion Laboratory (JPL). Nextreme is a venture backed company that designs and manufactures micro-scale thermal and power management products. Dr. von Windheim holds bachelor's degrees in chemistry and physics, a master's degree and a Ph.D. in physical chemistry, and an MBA.
Email:  jesko@zenalux.com
Phone:  +1-919-949-8970
Nirmala ('Nimmi') Ramanujam, Ph.D.
Dr. Ramanujam is Associate Professor of BME, Director of the Tissue Optical Spectroscopy Laboratory at Duke University and founder of Zenalux Biomedical. Dr. Ramanujam developed the Zenalux technology at the University of Wisconsin, Madison and moved to Duke University to apply it in clinical settings. She was named as one of the top 100 young innovators in technology by MIT, named a DOD Era of Hope Scholar for Breast Cancer research and won the Global Indus Technovators award from MIT. With nearly 20 years experience in optical spectroscopy, current research focuses on the development of optical systems for the clinical diagnosis and therapy of cancer and mathematical algorithms for quantitative physiology of cancers in vivo.
She has authored over 50 peer-reviewed journal articles and 10 invited articles and book chapters and holds11 patents.  Dr. Ramanujam is on the technical planning committee for one of the premier breast cancer conferences, the DOD Era of Hope Breast Cancer Conference and was invited to be a plenary speaker at the international symposium in 2008. She is member of the DOD Breast Cancer Research Program Integration Panel where she is involved in vision setting and allocating funds for breast cancer research. She is also a fellow of the Optical Society of America.
Email:  nimmi@zenalux.com
Phone:  +1-919-794-5757
David A. Koester
Mr. Koester is a start-up company and early-stage product development executive with over 25 years' experience in securing, maturing and commercializing nascent technologies, engineering management, new business development, and technical sales. He is a co-founder of Nextreme Thermal Solutions, a thin-film thermoelectric start-up company sold to Laird in 2013. In addition to Nextreme, he has held key technical and managerial positions with Laird, RTI International, MEMSCAP, Inc., JDS Uniphase, Cronos Integrated Microsystems, and the Microelectronics Center of North Carolina (MCNC). At Cronos he was a principle member of the technical staff. Cronos was sold to JDSU in 2000. He holds 11 patents and has authored or co-authored over 20 technical articles and peer-reviewed publications. He has an M.S. in Materials Science from North Carolina State University and a B.S. in Ceramic Engineering from Iowa State University.
Email: dave.koester@zenalux.com
Dan Stevenson
Mr. Stevenson has 20+ years of experience in R&D management positions with P&L, staff development, project management and business development accountability. He is a technical innovator in the field of information systems (high performance systems, information security, and optical communications) and has served as the principle investigator on numerous DARPA, NSF, NSA and NASA research contracts involving academic collaborative partners. He was a founder and corporate officer at two VC backed startup companies that translated DoD supported research results to the commercial marketplace.
Email: daniel.stevenson@zenalux.com